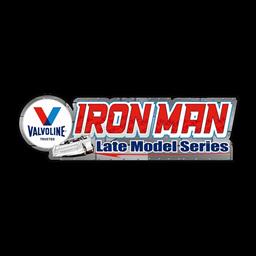 1/13/2022
Iron-Man Late Model Series
---
Michael Page Suspended from Iron-Man / CT Promotions Competition for One Year Following Talladega Ice Bowl Incident
SOMERSET, KY (January 12, 2022)— CT Promotions & Iron-Man Racing Series has announced today that driver Michael Page of Douglasville, Ga. has been suspended from competition for one full calendar year beginning today January 12, 2022 and going through January 12, 2023 for actions related to the 31st Annual Ice Bowl at Talladega Short Track on January 8, 2022. This includes all CT Promotions-officiated races as well as the Valvoline Iron-Man Late Model Series.
An altercation involving one of Mr. Page's crew members and a track official in the infield at Talladega goes against series rules and regulations. As the rule book states: "There is no fighting at the race track. Anyone running into anyone else on the track intentionally or using their car as a weapon will no longer be able to compete in the series. Each driver is also responsible for his crew, and the same rules apply."
"In review of Mr. Page's crew members activity in the pits and on track aggressive driving of last weekend, we feel that Mr. Page needs to be held accountable for his actions on and off the race track and therefore have made the decision to suspend him for one calendar year. The seriousness of these actions demands responsibility and the good thing about TV is you are able to go back and watch all of the footage to be sure you make the correct determination," stated CT Promotions President Chris Tilley. "We hope by doing this that we will be able to hold drivers to the fact that they are completely responsible for their crew's actions and that this sort of behavior will not be tolerated by the series."
The series also wants to address the starts and restart rules of the event that were used. The rules state "If you stop or spin out on the initial start by yourself, you will go to the tail. If more than one car is involved, we will go back to the original start." "The rules were followed to the letter last weekend but we felt like Mr. Page used the rule to his advantage and that will not be tolerated," said Tilley again.
For more information on the Valvoline Iron-Man Late Model Series, please log on to www.IMDIRT.net .
Back to News