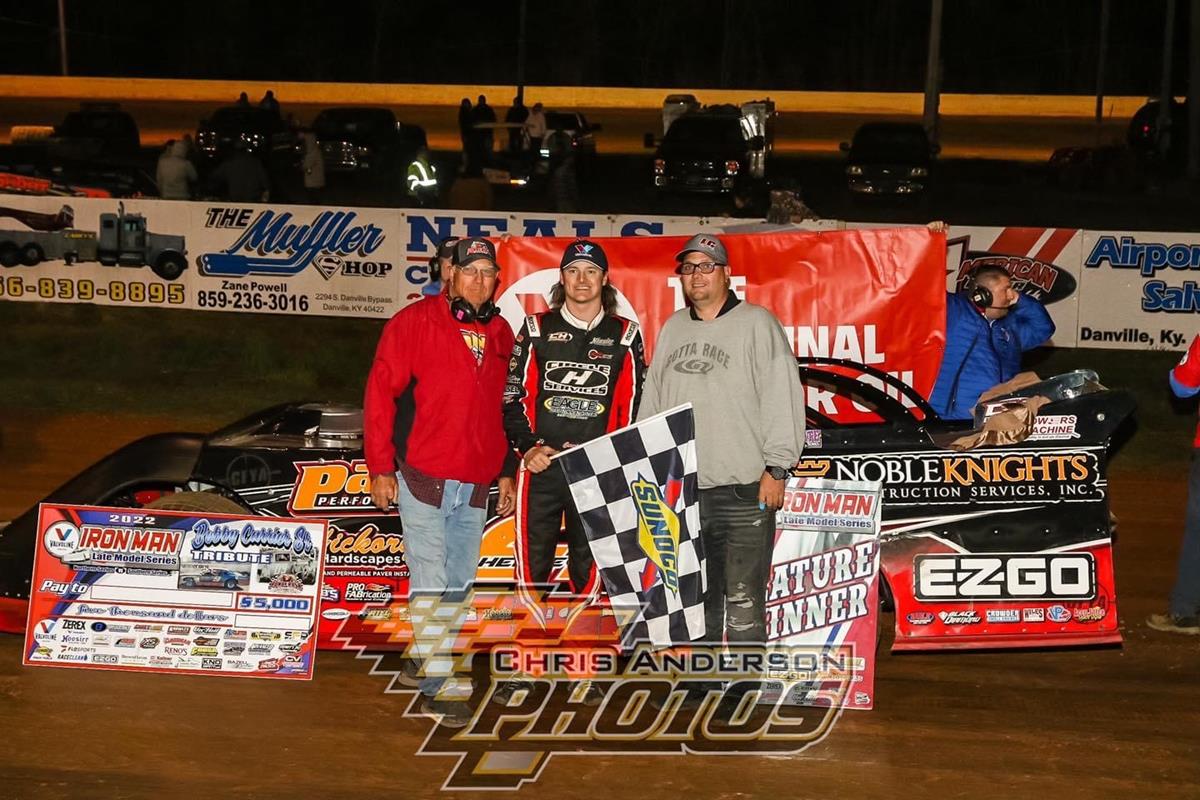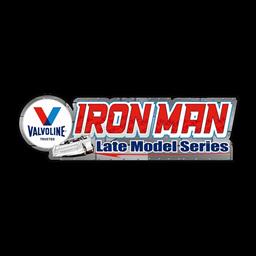 4/15/2022
Iron-Man Late Model Series
---
Hedgecock Handles Bobby Carrier, Sr. Tribute at Ponderosa Speedway
JUNCTION CITY, KENTUCKY (April 15, 2022)– The Valvoline Iron-Man Late Model Northern and Southern Series would sanction the Bobby Carrier, Sr. Tribute at Ponderosa Speedway in Junction City, KY on Friday evening and Cory Hedgecock of Loudon, TN would lead all 40 laps on his way to a $5,200 payday.
The victory by the 29-year-old Hedgecock would be his seventh career Valvoline Iron-Man Late Model Series victory and would come behind the wheel of a Black Diamond Race Car powered by an Eagle Race Engine with sponsorship from E-Z-GO, Eagle Race Engines, Voo Doo Technology, Pace Performance, K and P Used Cars, Budget Transmissions, I-75 Raceway, Green's Recycling, W.E. Hardscape and Masonry, Circle H Service, NobleKnights Construction Service, Hickory Hardscapes, and Cobb's Auto Parts.
Cory Hedgecock would take the lead from his inside pole starting position of the Bobby Carrier, Sr. Tribute event, followed by Spencer Hughes, Tyler Erb, Josh Rice, and Garrett Smith. Zack Dohm would take fifth from Smith on lap two, while Rice would snag third from Erb on lap three. Hedgecock would build a comfortable lead at this point, while Dohm would challenge Erb and take the fourth position on lap six. Hughes would almost spin out in turn four on lap seven, allowing Rice, Dohm, Erb, and Dustin Linville to get by him. The first caution of the race waved on lap thirteen for debris on the frontchute. The restart would not see a lap made as Garrett Alberson would clip a tire barrier on the inside of turn two as would roll to a stop in turn three to draw the caution, done for the night. The resulting restart would keep Hedgecock out front, followed now by Dohm, Rice, Erb, and Eli Beets. Only one more circuit would be make though as Dustin Linville would end up around in turn four and his night would be finished. The top five remained the same on the restart, while Michael Chilton would jump to the top side of the track and make his way to fifth on lap sixteen. Hedgecock would again build a comfortable lead, while Chilton would run down fourth place Erb and take the position on lap nineteen, while Tanner English would make his way into the top five after getting around Erb one circuit later. Hedgecock would keep Dohm at bay for the time being as the final caution of the event flew on lap thirty when Pierce McCarter would make contact with the outside retaining wall in turn one and leave debris on the race surface. Hedgecock would again hold the lead on the restart, with Dohm and Rice mixing it up for second, while English would take fourth away from Chilton. Dohm would finally secure the runner-up slot on lap thirty-two, but could not make any gains on the leader. English would begin to challenge Rice for the third spot and would take the position on lap thirty-eight. Hedgecock would drive under the checkered flag first, followed by Dohm and English, with Rice finishing fourth, while Christian Hanger would nip Chilton at the line for fifth. Chilton would come home sixth, with 18th place starting Brandon Sheppard, Erb, Camaron Marlar, and 17th place starter Daulton Wilson completing the top ten.
The next events for the Valvoline Iron-Man Late Model Northern Series will be a doubleheader of action at Atomic Speedway in Waverly, OH on Friday May 6 and Saturday May 7. The Friday May 6 event will pay $5,000 to win and the Saturday May 7 event will pay $10,000 to win.
The next event for the Valvoline Iron-Man Late Model Southern Series will be on Saturday April 16 at Tazewell Speedway in Tazewell, TN for the Lil' Bill Corum Memorial, paying $21,000 to win (this event will be co-sanctioned with the Schaeffer's Oil Spring Nationals).
For more information about the Valvoline Iron-Man Late Model Series, please contact Chris Tilley at (828) 361-5981 or visit the tour's webpage at www.IMDIRT.net or visit the tour page Iron-Man Racing Series on Facebook and Iron-Man Series (@CTPROMOTE) on Twitter.
The Valvoline Iron-Man Late Model Northern and Southern Series would like to thank the following sponsors and marketing partners for their support of the 2022 racing season: Valvoline, Zerex by Valvoline, Brucebilt Performance Parts, Hoosier Racing Tire, E-Z-GO, Sunoco Race Fuels, Bazell Race Fuels, DirtonDirt.com, MyRacePass, FloRacing, XS Power Batteries, Vic Hill Racing Engines, American Racer Tires, Keltner Contracting, TW Taylor Trucking, Earnhardt Technologies Group, Swafford Signs, KY Clutch, Brown Haven Homes, Knowles Race Parts and Bodies, Coosa Heating and Cooling, Cruise with the Champions, SFP Performance Systems, KND Safety, Impact RaceGear, Chattanooga Valley Auto Parts, Race Clean, Denby's J&J Construction, Advanced Transportation, Lowe's Tows, Reno's Roadhouse, and Racetrack Safety Initiative.
About Valvoline™
Valvoline Inc. (NYSE: VVV) is a leading worldwide marketer and supplier of premium branded lubricants and automotive services, with sales in more than 140 countries. Established in 1866, the company's heritage spans more than 150 years, during which time it has developed powerful brand recognition across multiple product and service channels. Valvoline ranks as the No. 3 passenger car motor oil brand in the DIY market by volume. It operates and franchises approximately 1,400 quick-lube locations, and it is the No. 2 chain by number of stores in the United States under the Valvoline Instant Oil ChangeSM brand and the No. 3 chain by number of stores in Canada under the Valvoline Great Canadian Oil Change brand. It also markets Valvoline lubricants and automotive chemicals, including the Valvoline High Mileage with MaxLife technology motor oil for engines over 75,000 miles; Valvoline Advanced Full Synthetic motor oil; Valvoline Premium Blue™ heavy-duty motor oil; Valvoline Multi-Vehicle Automatic Transmission Fluid; and Zerex™ antifreeze. To learn more, visit www.valvoline.com.
Official Summary of Results
Feature Results for Valvoline Iron-Man Late Model Northern and Southern Series Bobby Carrier, Sr. Tribute at Ponderosa Speedway in Junction City, KY on Friday April 15, 2022
Cory Hedgecock-Loudon, Tenn.
Zack Dohm-Cross Lanes, West Va.
Tanner English-Benton, Ky.
Josh Rice-Verona, Ky.
Christian Hanger-Winchester, Tenn.
Michael Chilton-Salvisa, Ky.
Brandon Sheppard-New Berlin, Ill.
Tyler Erb-New Waverly, Tex.
Camaron Marlar-Winfield, Tenn.
Daulton Wilson-Fayetteville, N.C.
Eli Beets-Knoxville, Tenn.
Spencer Hughes-Meridan, Miss.
Garrett Smith-Eatonton, Ga.
Kirk Phillips-Ashland, Ky.
Stacy Boles-Clinton, Tenn.
Pierce McCarter-Gatlinsburg, Tenn.
James Rice-Verona, Ky.
Josh Henry-Newport, Tenn.
Justin Rattliff-Campbellsville, Ky.
Garrett Alberson-Las Cruces, New Mex.
Dustin Nobbe-Batesville, Ind.
Dustin Linville-Bryantsville, Ky.
Time of Race: 27 minutes, 2 seconds
Margin of Victory: 0.713 seconds
Yellow Flags: Four (lap 13, 13 restart, 14, 30)
Red Flags: None
Lap Leaders: Cory Hedgecock 1-40
Entries: 27
E-Z-GO Time Trials Top Qualifier: Cory Hedgecock (Group A) 13.728 seconds
SFP Performance Systems Hard Charger Award ($100 product certificate): Brandon Sheppard (started 18th-finished 7th-advanced 11 positions)
Provisional Starters: Stacy Boles (south), Kirk Phillips (north)
Sunoco Race Fuels Heat One Finish (8 laps/top 4 advance): Cory Hedgecock, Garrett Smith, Christian Hanger, Josh Henry, Larry Greer, Dustin Nobbe, Brandon Sheppard
Sunoco Race Fuels Heat Two Finish (8 laps/top 4 advance): Tyler Erb, Zack Dohm, Tanner English, Camaron Marlar, Daulton Wilson, Corey Lewis, Kirk Phillips
Sunoco Race Fuels Heat Three Finish (8 laps/top 4 advance): Spencer Hughes, Dustin Linville, Garrett Alberson, James Rice, Stacy Boles, Steve Smith, Dakota Smith
Sunoco Race Fuels Heat Four Finish (8 laps/top 4 advance): Josh Rice, Eli Beets, Michael Chilton, Justin Rattliff, Pierce McCarter, Bradley Strong
B-Main One Finish (8 laps/top 4 advance): Daulton Wilson, Brandon Sheppard, Dustin Nobbe, Pierce McCarter, Stacy Boles, Corey Lewis, Larry Greer, Bradley Strong, Steve Smith (DNS-Kirk Phillips, Dakota Smith)
Back to News