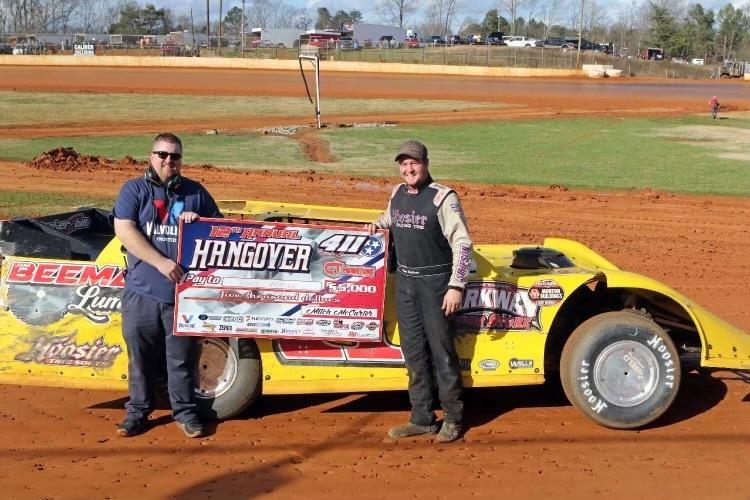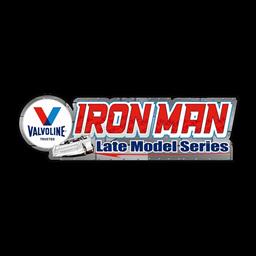 1/1/2022
Iron-Man Late Model Series
---
Pierce McCarter and Amos Bunch Celebrate Hangover Victories at 411 Motor Speedway
SEYMOUR, TENNESSEE (January 1, 2022)– 411 Motor Speedway would finally get the 12th edition of the Hangover in the books after a one-day delay on Saturday afternoon and CT Promotions would sanction the Super Late Model and Open Wheel Modified portions of the program, with Pierce McCarter of Gatlinburg, TN claiming his second consecutive Hangover victory in Super Late Model action, while Amos Bunch of Wartburg, TN would claim his first-ever Hangover victory in the Open Wheel Modified portion of the event.
The win by the 29-year-old McCarter in the Super Late Model portion of the event would mark his second consecutive Hangover win and would come aboard a MasterSbilt Race Car powered by a Jay Dickens Race Engine with sponsorship from Beeman Lumber, Seubert Calf Ranches, FTS Incorporated, Hankook Tires, Tennessee Homemade Wines, and Bilstein.
The win by the 49-year-old Bunch would be his first Open Wheel Modified victory in the Hangover and would come behind the wheel of a Bandit Race Car powered by a Phantom Race Engine with sponsorship from Red's Muffler Shop, Race Carburation, Custom Suspensions, Outlaw Graphics, and Wilson Machine Shop.
Cory Hedgecock would jump to the lead at the start of the Super Late Model main event, followed by Pierce McCarter, David Crabtree, Kirk Phillips, and Christian Hanger. Hanger would take fourth from Phillips on lap three and Hedgecock and McCarter would put some distance on the field. On lap six, Hanger would claim third from Crabtree and Clay Coghlan would take fifth from Phillips. Hedgecock would start working slower traffic on lap eight and McCarter would close in on Hedgecock at this point. Meanwhile, Hanger continued his charge toward the front and would close up to both Hedgecock and McCarter when the first caution of the race appeared on lap thirteen for debris in turn one. Hedgecock would maintain the lead on the restart, with McCarter, Hanger, Crabtree, and Coghlan giving chase. Hanger's efforts would come to an end on lap seventeen when he made contact with the outside retaining wall in turn two and draw the second caution of the race and end his event for the day. This restart would see Hedgecock and McCarter remain first and second, with Crabtree now in third, while Phillips would go to fourth, and Coghlan would be fifth, but Shane Bailey would take fifth from Phillips on lap eighteen. The final caution of the event would appear on lap twenty-one when Zach Shannon would spin in turn two. For what would be the final restart of the race, Hedgecock and McCarter would pull away from third-place Crabtree, with McCarter dogging Hedgecock every lap. However, Hedgecock would slow as the field exited turn four to complete lap thirty-two and would pull his mount to the infield and be finished for the afternoon. McCarter would inherit the lead at this point and would go unchallenged the remainder of the way to claim his second straight Hangover victory. Crabtree would take runner-up honors, while Phillips would complete the podium finishers in third. Coghlan and Bailey would round out the top five. The remainder of the top ten would be Hedgecock, Steve Smith, Kent Keyser, Zach Shannon, and Hanger.
In the Open Wheel Modified feature event, Amos Bunch would take the lead at the drop of the green flag, with David Clark, Jeff Hamby, Colton Perrine, and Skyler Douglas giving chase. Hamby would work past Clark for second on lap three, but action would be halted for a caution on lap five for debris on the main straightaway. Bunch would maintain the lead on the restart, while Clark would reclaim second, with Hamby third, followed by Perrine and Douglas. The next caution appeared on lap seven as Dusty Branscum slowed on the backchute and Tyler Strickland would put down an enormous amount of fluid entering turn one and spin into the outside retaining wall. Once action resumed, the caution would fly again before a lap was completed when third-place Hamby would spin entering turn one. Bunch would maintain the race lead over Clark, while Hamby began marching his way back toward the front of the field. The final caution appeared on lap ten when third-place running Perrine would make heavy contact with the outside retaining wall in turn one. At this point, the time limit for the event had expired so the race would finish in green-white-checkered manner and Bunch would maintain his lead and drive to his first-ever Hangover victory. Clark would finish second, while Hamby charged back through the field to finish third. Douglas and Adam Ogle would complete the top five. The remainder of the top ten would be J.R. Davis, Perrine, Cory Turner, Dusty Branscum, and Tyler Strickland.
For more information about the Valvoline Iron-Man Late Model Series or Brucebilt Performance Iron-Man Modified Series, please contact Chris Tilley at (828) 361-5981 or visit the Super Late Model tour's webpage at www.IMDIRT.net or visit the Open Wheel Modified tour's webpage at www.IMOPENWHEEL.net. or by visit the tour's page Iron-Man Racing Series on Facebook and Iron-Man Series (@CTPROMOTE) on Twitter.
Official Summary of Results
Feature Results for the CT Promotions sanctioned Super Late Models 12th Annual Hangover at 411 Motor Speedway in Seymour, TN on Saturday January 1, 2022
Pierce McCarter-Gatlinburg, Tenn.
David Crabtree-Maryville, Tenn.
Kirk Phillips-Ashland, Ky.
Clay Coghlan-Dandridge, Tenn.
Shane Bailey-Grayson, Ky.
Cory Hedgecock-Loudon, Tenn.
Steve Smith-Powell, Tenn.
Kent Keyser-Konova, West Va.
Zach Shannon-Wartburg, Tenn.
Christian Hanger-Winchester, Tenn.
Dakota Rayburn-Olive Hill, Ky.
Roy Petrey-Corbin, Ky.
Time of Race: 18 minutes, 29 seconds
Margin of Victory: 4.633 seconds
Yellow Flags: Three (lap 13, 17, 21)
Red Flags: None
Lap Leaders: Cory Hedgecock 1-31, Pierce McCarter 32-40
Entries: 12
Top Qualifier: Cory Hedgecock 13.853 seconds
Official Summary of Results
Feature Results for the CT Promotions sanctioned Open Wheel Modifieds 12th Annual Hangover at 411 Motor Speedway in Seymour, TN on Saturday January 1, 2022
Amos Bunch-Wartburg, Tenn.
David Clark-Tazewell, Tenn.
Jeff Hamby-Lancing, Tenn.
Skyler Douglas-Clinton, Tenn.
Adam Ogle-Cosby, Tenn.
J.R. Davis-Rural Retreat, Va.
Colton Perrine-Lowell, Oh.
Cory Turner-McMinnville, Tenn.
Dusty Branscum-Pine Knot, Ky.
Tyler Strickland-Limestone, Tenn.
Reece Ogle-Sevierville, Tenn.
Wayne James-Newport, Tenn.
Did Not Start- Josh Hampton (Crab Orchard, Ky.), Jamey Mahon (Matewan, West Va.), Larry James (Newport, Tenn.), Coty Adams (Dandridge, Tenn.), Virgil Parriman (Somerset, Ky.)
Time of Race: 27 minutes, 32 seconds
Margin of Victory: 1.829 seconds
Yellow Flags: Four (lap 5, 7, 7 restart, 10)
Red Flags: None
Lap Leaders: Amos Bunch 1-11
Entries: 17
Top Qualifier: David Clark 14.788
Back to News