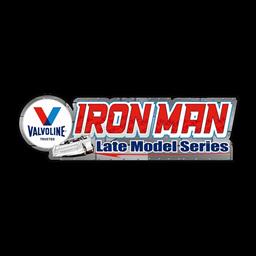 1/14/2022
Iron-Man Late Model Series
---
Revised Finish of the 2022 Talladega Short Track Ice Bowl
EASTABOGA, ALABAMA (January 14, 2022)- The 2022 Ice Bowl winner Michael Page of Douglasville, GA has been disqualified as the winner of the event after a tire sample that was collected after the event's completion last Saturday has failed to clear inspection of an independent lab test.
Two samples were taken after the feature event, a 1600 right-rear tire and a 1350 right front tire. The 1600 passed the lab test, but the 1350 did not conform and meet the benchmark, therefore, Page has been disqualified from his Ice Bowl victory.
This will now make Christian Hanger of Winchester, TN the winner of the 2022 Ice Bowl, with everyone else being bumped up one position as well. The track will be distributing the extra purse money to drivers over the course of the next week.
If drivers have any questions, please contact Chris Tilley or Adam Stewart.
REVISED Feature Results for the CT Promotions sanctioned Super Late Models 31st Annual Ice Bowl at Talladega Short Track in Eastaboga, AL on January 7-8, 2002 1. Christian Hanger-Winchester, Tenn.
2. Chase Oliver-Rainbow City, Ala.
3. Dillon Tidmore-Gadsden, Ala.
4. Dallas Cooper-Talladega, Ala.
5. Austin Horton-Newnan, Ga.
6. Dillon Crim-Eastaboga, Ala.
7. Dylan Knowles-Lanett, Ala.
8. Sam Seawright-Fort Payne, Ala.
9. Kirk Baker-Hustontown, Pa.
10. Luke Hoffner-Turbotville, Pa.
11. Ellery Leake-Knoxville, Tenn.
12. Rucker Orr-Newnan, Ga.
13. Dewayne Kiefer-Bloomsdale, Mo.
14. Chad Duncan-Newnan, Ga.
15. Scott Crigler-Alton, Mo.
16. Tim Roszell-Anniston, Ala.
17. John Ownbey-Cleveland, Tenn.
18. Tanner Collins-Franklin, Ga.
19. Chris Jones-Alabaster, Ala.
20. Dalton Polston-Lithia Springs, Ga.
21. Andy Picklesimer-Ooltewah, Tenn.
22. Pierce McCarter-Gatlinburg, Tenn.
23. Ryan Wilson-Margaret, Ala. (DQ)
24. Michael Page-Douglasville, Ga. (DQ tires)
Back to News