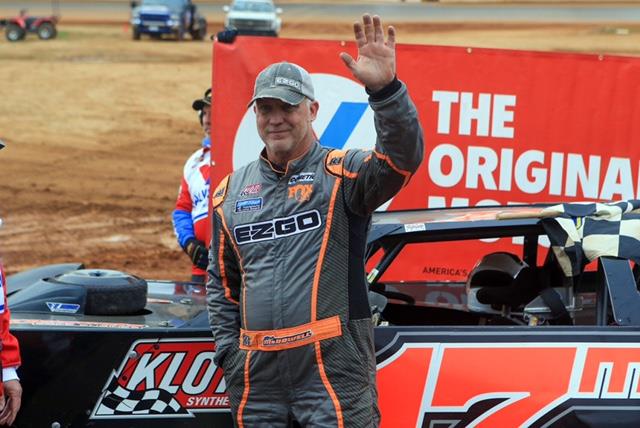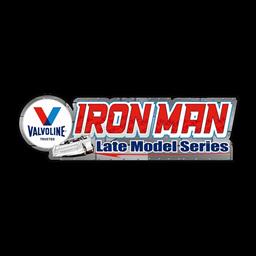 11/21/2022
Iron-Man Late Model Series
---
Dale McDowell Grabs 34th Annual Gobbler Victory at Boyd's Speedway
RINGGOLD, GEORGIA (November 19, 2022)– The Valvoline Iron-Man Late Model Southern Series would return to action on Saturday at Boyd's Speedway in Ringgold, GA for the 34th Annual Gobbler and Dale McDowell of Chickamauga, GA would put his name in the record book and he became the first five-time winner of the Gobbler event as he would lead all forty laps on his way to a $10,000 payday.
For the 56-year-old McDowell, it would be his Valvoline Iron-Man Late Model Series victory of the season and his third career Valvoline Iron-Man Late Model Series victory behind the wheel of a Team Zero Race Car powered by a Clements Race Engines with sponsorship from E-Z-GO, Connected Strategy Advisors, North Eastern Fabrication, Campbell Insulation Specialists, Klotz Lubricants, Cometic Gasket, and FOX Shocks.
McDowell would take the lead at the start of the event from his outside front-row starting spot, with polesitter Michael Chilton, Mack McCarter, Sam Seawright, and Ray Cook giving chase. McCarter would snag the runner-up spot from Chilton on lap two, while McDowell would immediately open a sizable lead. By lap eight, McDowell would hold a 2.5 second lead and would start working lapping slower traffic on lap ten. The first caution of the race waved for a spin in turn two by Will Roland on lap twelve. McDowell controlled the field on the restart, with Chilton reclaiming second from McCarter, with Seawright fourth, while ninth-place starter Cory Hedgecock would claim the fifth position from Cook. McCarter would again take the second position away from Chilton on lap thirteen, while Hedgecock would work past Seawright for fourth one circuit later. While McDowell would again open his lead back up to 2.5 seconds over McCarter, Hedgecock would continue his mid-race charge as he would claim the third position over Chilton on lap eighteen. McDowell would begin to work lap slower traffic once again by lap twenty-two and would encounter heavy traffic by lap twenty-five, allowing McCarter to close in on the leader, while Hedgecock would close in on McCarter for second. Thirteenth place starter Michael Page would make his way into the top five on lap twenty-nine when he would drive past Seawright, while Hedgecock challenged McCarter for second and would momentarily have the spot, only to see the caution flag wave to negate his pass on lap thirty-one for the slowed machine of Josh Walker on the backchute. The final restart would see McDowell maintain the race lead, with McCarter and Hedgecock resuming their battle for second, while Page would pressure Chilton for fourth. McCarter would finally pull away a bit from Hedgecock by lap thirty-five, while Page took the fourth position from Chilton on the same circuit. McDowell would not be challenged in the waning laps and take the checkered by 2.424 seconds over McCarter, while Hedgecock would settle for third. Page and Chilton would complete the top five. The remainder of the top ten would be Cameron Weaver, Seawright, Ross Bailes, Cook, and Tod Hernandez.
The next event for the Valvoline Iron-Man Late Model Southern Series will be at 411 Motor Speedway in Seymour, TN on Saturday November 26 for the 7th Annual Leftover event, paying $5,000 to win and $450 to start. The Brucebilt Performance Parts Iron-Man Open Wheel Modified Southern Series will also be in competition at 411 Motor Speedway on November 26, racing for $1,500 to win and $150 to start. This will be the 2022 series finale for both tours.
For more information about the Valvoline Iron-Man Late Model Series, please contact Chris Tilley at (828) 361-5981 or visit the tour's webpage at www.IMDIRT.net or visit the tour page Iron-Man Racing Series on Facebook and Iron-Man Series (@CTPROMOTE) on Twitter.
The Valvoline Iron-Man Late Model Series would like to thank the following sponsors and marketing partners for their support of the 2022 racing season: Valvoline, Zerex by Valvoline, Brucebilt Performance Parts, Hoosier Racing Tire, E-Z-GO, Sunoco Race Fuels, Bazell Race Fuels, DirtonDirt.com, MyRacePass, FloRacing, Impact Race Gear, XS Power Batteries, Vic Hill Racing Engines, American Racer Tires, Keltner Contracting, TW Taylor Trucking, Earnhardt Technologies Group, Swafford Signs, KY Clutch, Brown Haven Homes, Knowles Race Parts and Bodies, Coosa Heating and Cooling, SFP Performance Systems, KND Safety, Chattanooga Valley Auto Parts, Race Clean, Denby's J&J Construction, Advanced Transportation, Lowe's Tows, Reno's Roadhouse, and Racetrack Safety Initiative.
About Valvoline™
Valvoline Inc. (NYSE: VVV) is a leading worldwide marketer and supplier of premium branded lubricants and automotive services, with sales in more than 140 countries. Established in 1866, the company's heritage spans more than 150 years, during which time it has developed powerful brand recognition across multiple product and service channels. Valvoline ranks as the No. 3 passenger car motor oil brand in the DIY market by volume. It operates and franchises approximately 1,400 quick-lube locations, and it is the No. 2 chain by number of stores in the United States under the Valvoline Instant Oil ChangeSM brand and the No. 3 chain by number of stores in Canada under the Valvoline Great Canadian Oil Change brand. It also markets Valvoline lubricants and automotive chemicals, including the Valvoline High Mileage with MaxLife technology motor oil for engines over 75,000 miles; Valvoline Advanced Full Synthetic motor oil; Valvoline Premium Blue™ heavy-duty motor oil; Valvoline Multi-Vehicle Automatic Transmission Fluid; and Zerex™ antifreeze. To learn more, visit www.valvoline.com.
Official Summary of Results
Feature Results for the Valvoline Iron-Man Late Model Southern Series 34th Annual Gobbler at Boyd's Speedway in Ringgold, GA on Saturday November 19, 2022 1. Dale McDowell-Chickamauga, Ga.
2. Mack McCarter-Gatlinburg, Tenn.
3. Cory Hedgecock-Loudon, Tenn.
4. Michael Page-Douglasville, Ga.
5. Michael Chilton-Salvisa, Ky.
6. Cameron Weaver-Crossville, Tenn.
7. Sam Seawright-Fort Payne, Ala.
8. Ross Bailes-Clover, S.C.
9. Ray Cook-Brasstown, N.C.
10. Tod Hernandez-Chattanooga, Tenn.
11. Jimmy Owens-Newport, Tenn.
12. Robby Mason-Hixson, Tenn.
13. Eli Beets-Knoxville, Tenn.
14. Jed Emert-Maryville, Tenn.
15. Todd Morrow-Penton, Ala.
16. Jason Croft-Woodstock, Ga.
17. Tucker Anderson-Blairsville, Ga.
18. Jordan Rodabaugh-Soddy Daisy, Tenn.
19. Will Roland-Jasper, Ga.
20. Robby Moses-Maryville, Tenn.
21. Josh Walker-Ringgold, Ga.
22. Ronnie Johnson-Chattanooga, Tenn.
23. Stacy Boles-Clinton, Tenn.
24. Chase Oliver-Crossville, Ala.
Time of Race: 15 minutes, 59 seconds
Margin of Victory: 2.424 seconds
Yellow Flags: Two (Lap 12, 31)
Red Flags: None
Lap Leaders: Dale McDowell 1-40
Entries: 39
E-Z-GO Time Trials Top Qualifier: Michael Chilton (Group A) 14.312 seconds
SFP Performance Systems Hard Charger Award ($100 product certificate): Jimmy Owens (started 21st-finished 11th-advanced 10 positions)
Provisionals: Stacy Boles, Ronnie Johnson
Sunoco Race Fuels Heat Race One Finish (8 laps/top 4 transfer): Michael Chilton, Mack McCarter, Cory Hedgecock, Michael Page, Eli Beets, Ronnie Johnson, Chase King, Casey Turman, Mike Bargo (DNS-Danny Whitten)
Sunoco Race Fuels Heat Race Two Finish (8 laps/top 4 transfer): Sam Seawright, Josh Walker, Will Roland, Todd Morrow, Justin Cameron, Robby Moses, Jimmy Owens, Jesse Lowe, Dallas Miller
Sunoco Race Fuels Heat Race Three Finish (8 laps/top 4 transfer): Dale McDowell, Jed Emert, Tod Hernandez, Tucker Anderson, Jason Croft, Chase Oliver, Corey Roulette, Andy Picklesimer, Jeremy Cropper
Sunoco Race Fuels Heat Race Four Finish (8 laps/top 4 transfer): Ray Cook, Ross Bailes, Cameron Weaver, Robby Mason, Jordan Rodabaugh, Camaron Marlar, Stacy Boles, Clayton Cooper (DNS-Justin Owens)
Impact Race Gear B-Main One Finish (8 laps/top 3 transfer): Eli Beets, Robby Moses, Jimmy Owens, Casey Turman, Justin Cameron, Jesse Lowe, Dallas Miller, Mike Bargo, Chase King (DNS-Danny Whitten)
Impact Race Gear B-Main Two Finish (8 laps/top 3 transfer): Jason Croft, Chase Oliver, Jordan Rodabaugh, Corey Roulette, Andy Picklesimer, Stacy Boles, Clayton Cooper, Justin Owens, Jeremy Cropper (DNS-Camaron Marlar)
---
Article Credit: By Michael Despain | Photo by Chad Wells
Back to News