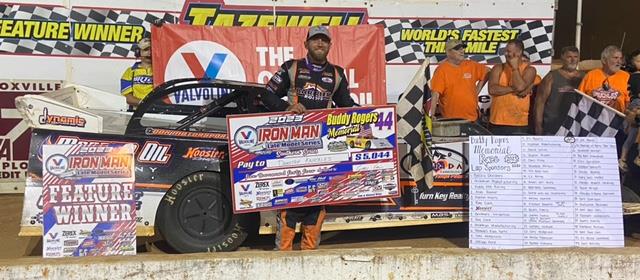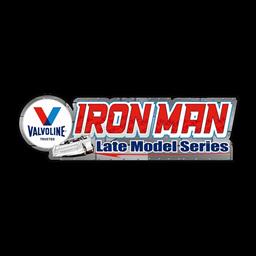 9/3/2023
Iron-Man Late Model Series
---
Last Lap Pass Nets Knuckles Buddy Rogers Memorial Valvoline Iron-Man Late Model Southern Series Victory at Tazewell Speedway
TAZEWELL, TENNESSEE (September 3, 2023)– The Valvoline Iron-Man Late Model Southern Series would make its annual Labor Day weekend visit to Tazewell Speedway in Tazewell, TN on Sunday evening for the 15th Annual Buddy Rogers Memorial and Dakotah Knuckles of Ewing, VA would make a turn four, last lap pass to score the $5,044 victory and his second win in the Buddy Rogers Memorial event.
For the 29-year-old Knuckles, it would be his third career Valvoline Iron-Man Late Model Series win and would come aboard a Rocket Chassis with a Vic Hill Race Engines and carries sponsorship from Barrier Roofs, Hill's Truck Repair, Western Building Supply, Hickory Star Resort and Marina, Marcum Oil, DDK Motorsports, and SFP Performance Systems.
The start of the Buddy Rogers Memorial Valvoline A-Main event would not see a lap completed as outside polesitter Jason Trammell would slow on the backchute after contact with another competitor to draw the first of six caution flags in the event. Once action got underway, Austin Neely would grab the race lead, with Brandon Williams, Mack McCarter, Dakotah Knuckles, and John Llewellyn giving chase. McCarter would draw the next caution on lap three when his machine slowed in turn four and he would be done for the event. Hunter Graybeal would spin in turn four to slow the action again on lap six. Neely maintained the lead on the restart, with Knuckles taking second from Williams, while Josh Henry would sneak past Llewellyn for fourth. Williams would retake second from Knuckles on lap eight, with Henry and Llewellyn battling for fourth before Llewellyn would take the position on lap ten. Graybeal would draw the next caution with a spin in turn two and would be finished for the race. Neely would bring the field back to green, with Knuckles reclaiming the runner-up spot from Williams, while Llewellyn would hold fourth and Trammell would make his way from the rear of the field and take fifth from Henry. Neely and Knuckles would scoot away a bit, while Williams and Llewellyn would trade the third position before Williams secured it on lap eighteen. The front five would remain the same until the next caution waved on lap twenty-five when Josh Henry would slow on the backchute with a flat right-rear tire. Neely again the field on the restart, while Knuckles would slip high in turn two and allow Williams and Trammell to take second and third, shuffling Knuckles back to fourth. Knuckles would take third from Trammell on lap twenty-seven and would begin to pressure Williams for second until the final caution waved on lap thirty-one for a Brian Shockley spin in turn two. The restart would again have Neely out front, while Knuckles would drive by Williams for second. Neely and Knuckles would distance themselves from the rest of the field at this point and with five laps remaining, Knuckles would change his line in turns one and two and began to pressure Neely. Knuckles would look under Neely with two laps to go and the pair would be race down the backchute on the final lap, with Knuckles diving to the bottom and delivering a slidejob pass on Neely exiting turn four and keeping Neely at bay to claim the win. Williams, Trammell, and Llewellyn would complete the top five. The remainder of the top ten would be Henry, Brian Smith, Josh Sneed, Brian Shockley, and Donovan Long.
The next events for the Valvoline Iron-Man Late Model Southern Series will be at Ponderosa Speedway in Junction City, KY for the annual Fall Classic weekend. The Archie Coffman Tribute will pay $5,000 to win on Friday October 6 and the Big Daddy Classic will pay $10,088 to win on Saturday October 7. Both of these events will also be Northern Series points races as well.
For more information on the Valvoline Iron-Man Late Model Series, phone series promoter Chris Tilley at (828) 361-5981 or by visiting the tour website at www.IMDIRT.net or by following Iron-Man Series (@CTPROMOTE) on Twitter or liking Iron-Man Racing Series on Facebook.
The Valvoline Iron-Man Late Model Series would like to thank the following sponsors and marketing partners for their support of the 2023 racing season: Valvoline, Zerex by Valvoline, Brucebilt Performance Parts, Hoosier Racing Tire, E-Z-GO, Sunoco Race Fuels, Bazell Race Fuels, SFP Performance Systems, MyRacePass, Impact Race Gear, XS Power Batteries, Vic Hill Racing Engines, Racecar Engineering, American Racer Tires, Keltner Contracting, Todd Steel Buildings, TW Taylor Trucking, Earnhardt Technologies Group, Weichert Realtors-Ford Brothers (Judith Dyehouse-Agent), Swafford Signs, KY Clutch, DIRTCAR Racing, Brown Haven Homes, Knowles Race Parts and Bodies, Coosa Heating and Cooling, STAKT Products, KND Safety, Chattanooga Valley Auto Parts, PopBit, Denby's J&J Construction, Jim and Nancy Viox, Advanced Transportation, Lowe's Tows, Reno's Roadhouse, and Racetrack Safety Initiative.
About Valvoline™
Valvoline Inc. (NYSE: VVV) is a leading worldwide marketer and supplier of premium branded lubricants and automotive services, with sales in more than 140 countries. Established in 1866, the company's heritage spans more than 150 years, during which time it has developed powerful brand recognition across multiple product and service channels. Valvoline ranks as the No. 3 passenger car motor oil brand in the DIY market by volume. It operates and franchises approximately 1,400 quick-lube locations, and it is the No. 2 chain by number of stores in the United States under the Valvoline Instant Oil ChangeSM brand and the No. 3 chain by number of stores in Canada under the Valvoline Great Canadian Oil Change brand. It also markets Valvoline lubricants and automotive chemicals, including the Valvoline High Mileage with MaxLife technology motor oil for engines over 75,000 miles; Valvoline Advanced Full Synthetic motor oil; Valvoline Premium Blue™ heavy-duty motor oil; Valvoline Multi-Vehicle Automatic Transmission Fluid; and Zerex™ antifreeze. To learn more, visit www.valvoline.com.
Official Summary of Results
Feature Results for the Valvoline Iron-Man Late Model Southern Series 15th Annual Buddy Rogers Memorial at Tazewell Speedway in Tazewell, TN on Sunday September 3, 2023
Dakotah Knuckles-Ewing, Va.
Austin Neely-New Tazewell, Tenn.
Brandon Williams-Crossville, Tenn.
Jason Trammell-Mascot, Tenn.
John Llewellyn-Knoxville, Tenn.
Josh Henry-Newport, Tenn.
Brian Smith-Barbourville, Ky.
Josh Sneed-Knoxville, Tenn.
Brian Shockley-Thorn Hill, Tenn.
Donovan Long-Morristown, Tenn.
Matt Shockley-Knoxville, Tenn.
Hunter Graybeal-Knoxville, Tenn.
Steve Smith-Powell, Tenn.
Mack McCarter-Gatlinburg, Tenn.
Troy Eads-Tazewell, Tenn.
Time of Race: N/A
Margin of Victory: N/A
Yellow Flags: Six (lap 1, 3, 6, 11, 25, 31)
Red Flags: None
Lap Leaders: Austin Neely 1-43, Dakotah Knuckles 44
Entries: 15
E-Z-GO Time Trials Top Qualifier: Austin Neely 11.160 seconds
SFP Performance Systems Hard Charger Award ($100 product certificate): Dakotah Knuckles (started 6th-finished 1st-advanced 5 positions)
Provisionals: None
Todd Steel Buildings Heat Race One Finish (8 laps/all transfer): Josh Henry, Brian Shockley, Matt Shockley, Brian Smith, Josh Sneed, Steve Smith, Donovan Long, Hunter Graybeal (DNS-Troy Eads)
Valvoline Iron-Man Late Model Southern Series 2023 Schedule/Results
January 6/7-Talladega Short Track-Eastaboga, AL-Ray Cook (Brasstown, NC) (Non-Points)
January 29-Boyd's Speedway-Ringgold, GA-J.T. Seawright (Oxford, AL (Non-Points)
May 26-Ponderosa Speedway-Junction City, KY-Josh Rice (Verona, KY)
May 27-Lake Cumberland Speedway-Burnside, KY-Josh Rice (Verona, KY)
May 29-411 Motor Speedway-Seymour, TN-Cory Hedgecock (Loudon, TN)
June 17-Lake Cumberland Speedway-Burnside, KY-Josh Rice (Verona, KY)
July 3-Tazewell Speedway-Tazewell, TN-Dale McDowell (Chickamauga, GA)
August 4-Ponderosa Speedway-Junction City, KY-Michael Chilton (Salvisa, KY)
August 11-North Alabama Speedway-Tuscumbia, AL-Christian Hanger (Winchester, TN)
August 12-Talladega Short Track-Eastaboga, AL-Sam Seawright (Fort Payne, AL)
August 26-Lake Cumberland Speedway-Burnside, KY-Josh Rice (Verona, KY)
September 3-Tazewell Speedway-Tazewell, TN-Dakotah Knuckles (Ewing, VA)
October 6-Ponderosa Speedway-Junction City, KY-$5,000 to win
October 7-Ponderosa Speedway-Junction City, KY-$10,088 to win
November 18-Lancaster Motor Speedway-Lancaster, SC-$10,000 to win
Back to News